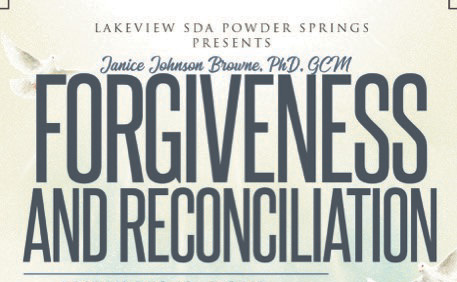 Forgiveness and Reconciliation
Join us on Sabbath evening December 13th from 7-8pm and on Sabbath morning December 14th at 9:50am as Dr. Janice Johnson Browne, PhD GCM presents "Forgiveness and Reconciliation", sponsored by the Lakeview Adventist Church Women's Ministry Department.
Dr. Janice Johnson Brown is a Chaplain and Commissions Licensed Minister endorsed by Adventist Chaplain Ministies through the North American Division of Seventh-Day Adventists.  She is also an Associate Pastor at the Riverside Chapel SDA Church in Nashville, Tennesee.
Dr. Browne is an educator in the field og Psychology, musician, Co-Author of the book Gifts of Hope and Author of the book 31 Days of SONshine. 
She can aso be viewed on 3ABN sharing SONshine spotlights of her book and on the program Issues and Answers with Shelly Quinn.
She earned a doctor of philosophy in Leadership at Andrews University, Master's of Science in Clinical Psychology at Alabama A&M University, and a Bachelor of Science in Psychology at Oakwood College.
We look forward to seeing you there!
Speaker
Dr. Janice Johnson Browne